How to Clean a Desk in 1 Minute
Start with a Clean, Damp Cloth: (10 seconds)
Start with folding your microfiber cloth into quarters.
Spray your microfiber cloth with an appropriate cleaner until just damp. TIP: Do not spray the surfaces as this could damage electronics and paperwork.
Cleaning Electronics: (20 seconds and only if requested by the desk occupant)
Start with the computer screen (needs to be OFF) - 1 hand holds the base of the monitor and other hand wipes clean with a screen safe product
Then pick up phone receiver with one hand and wipe front, back and the cradle. Do not wipe across the buttons of the phone as this may cause problems with the programming.
Wipe other small items such as calculators, tape dispensers, staplers, etc as needed in the same fashion as above.
Cleaning Desk Surfaces: (30 Seconds)
Wipe surfaces starting the top right corner and work your way to the front in sections. Bits of paper and crumbs can be pushed onto the floor below and vacuumed up later.
As you wipe, 1 hand is hold the cloth and the other is picking up and placing back down the small items on the desk including calculators, phones, keyboards, pen holders, etc. It is very important that these items are placed exactly where the desk occupant had them. TIP: Items too heavy to be picked up with one hand or desks that are covered in paperwork should be addressed at another time with the occupant.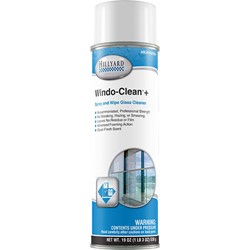 PromptName->Price GetRegularPrice->$3.99 GetFinalPrice->$3.99 GetPriceType->1
Hillyard Windo Clean Plus, Ready to Use Aerosol, 19 oz can, HIL0102555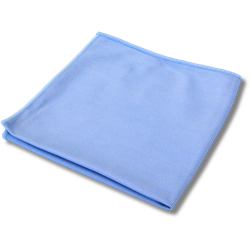 PromptName->Price GetRegularPrice->$2.09 GetFinalPrice->$2.09 GetPriceType->1
Hillyard, Trident Specialty Microfiber Glass Cloth, 16 x 16 inch, Blue, HIL20023