How to Clean an Office in 5 minutes
These are the steps to successfully clean an office in 5 minutes. The standard office is 10 feet x 10 feet with 1 desk and carpeted.
Stock and Organize Cart (Not included in cleaning time since this will be for all office areas)
Using a cart or a caddie, gather all of your dusters, microfiber cloths, cleaning chemicals, toilet paper, paper towels and trash liners. Tip - Grab some extra large trash bags for emergencies.
Completely fill your cleaning chemical bottles completely so that you don't run out.
1st Pass - High Dusting: (1 minute)
With an extension duster and starting at the door and working from left to right around the room.
DRY dust high areas above 5 feet including dust on ceiling vents, light fixtures, tops of credenzas and bookshelves, cobwebs in corners, window blinds, and picture frames.
TIP: When dusting a picture or mirror hold a corner with 1 hand and dust with the other to prevent the items from falling.

2nd Pass - Low Cleaning (2 Minute)
Fold your microfiber cloth into quarters. Spray your cloth with an appropriate cleaner until just damp. Do not spray the surfaces as this could damage electronics and paperwork.
Wipe from top to bottom surfaces from 5 feet to floor including desks, tables, electronics, chairs, window sills and heat registers. Remember to spot wipe glass, door handles and kick plates and walls .
TIP: Fold your microfiber cloth when it gets dirty or before you clean a shiny or glass surface.

3rd Pass - Remove Trash (30 seconds)
Remove trash from cans and replace liners when necessary. TIP: Tie off the top if the bag is too large and ALWAYS push the base of the liner to the bottom of the trash can.
Wipe exterior of trash can when needed
4th Pass - Mop (30 Seconds)
Damp mop floors and chair mats using your mop on your cart.
5th Pass - Vacuum Carpet and Rugs (1 minute)
Vacuum carpet and rugs (using a Backpack style Vacuum) including under desks and tables. TIP: Find a central outlet to plug in your vacuum and NEVER unplug any electronic equipment.
Push in and straighten chairs and trash cans as you move out the door.
PromptName->Price GetRegularPrice->$2.09 GetFinalPrice->$2.09 GetPriceType->1
Hillyard, Trident Premium Microfiber Double Sided Cloths - Blue Band, 8 x 10 inch, Gray/Green, HIL20017, 12 cloths per pack, sold as 1 each
PromptName->Price GetRegularPrice->$39.19 GetFinalPrice->$39.19 GetPriceType->1
Hillyard, Windo Clean Plus, concentrated gallon, HIL0013806, 4 gallons per case, sold as 1 gallon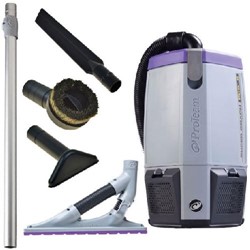 PromptName->Price GetRegularPrice->$544.99 GetFinalPrice->$544.99 GetPriceType->1
ProTeam, Super Coach Pro 6 Vac Backpack, Contains Attachment Kit 107530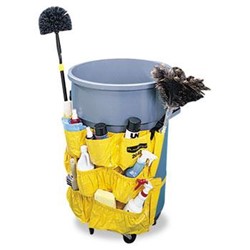 PromptName->On Sale! GetRegularPrice->$77.89 GetFinalPrice->$49.96 GetPriceType->2
Rubbermaid, Brute, Yellow Caddy Bag with Pockets