How to choose the correct carpet cleaning equipment
Cleaning carpets is a great way to improve your environment, and preserve your investment!
Owning your own equipment makes it easy to clean carpets when it is required.
Things to consider.
Productivity. The larger the extractor the more a person can clean per hour.
Extraction Clean using an 11" Self-Contained, Self Propelled Machine, Time to clean 1000 square feet: 55 minutes.
Extraction Clean using an 22" Self-Contained, Self Propelled Machine, Time to clean 1000 square feet: 14.3 minutes.
Applications.

Wide open hallways are conducive to larger machines.
Small offices, exam rooms, etc are more conducive to 16" machines or less.
Upholstery. This requires a small wand attachment, or a small carpet spotter machine.
Stairs. This will require a wand. If there are a lot of stairs, perhaps a box style extractor with a wand is best. These are more powerful than a hybrid Extractor with a wand attachment.
Budgets.

Multiple machines are always my first recommendation. Not only does this allow for "best fit" application, it also allows for redundancy and operator preference. A smaller operator may always select a 16" machine as it is something that is easy to handle for them.

Specialty
Carpet Spotters. This is an INCREDIBLY overlooked segment. These small powerhouses become the go to for lots of things: Spot Cleaning, Vomit, Blood / Bodily Fluid, etc.
Special Circumstances

Heat. Today's modern chemicals really lessen the need for heat. Chemicals with encapsulation technology REALLY help the process. If you need heat, we have a piece of equipment that can help. Please don't think however that heat is required.
Pressure. You will not need over 100 psi cleaning carpets or upholstery. As a matter of fact, higher pressures can damage textiles very quickly.
There are a lot of variables in carpet cleaning equipment selection. We are here to help!
We have added some of our best selling carpet cleaning equipment below. You can also see our complete inventory here.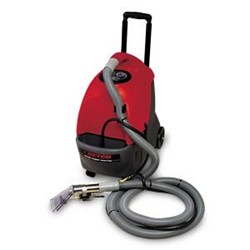 PromptName->Price GetRegularPrice->$1,353.39 GetFinalPrice->$1,353.39 GetPriceType->1
Betco, FiberPRO Carpet Spotter Extractor, 3.5 gallon, E8550900, sold as 1 unit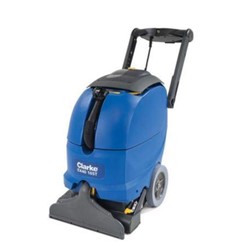 PromptName->Price GetRegularPrice->$3,305.89 GetFinalPrice->$3,305.89 GetPriceType->1
Clarke, EX40 16ST Self Contained Carpet Extractor, 16 inch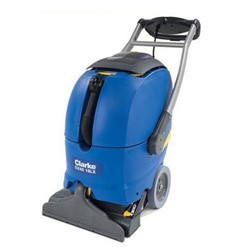 PromptName->Price GetRegularPrice->$3,809.89 GetFinalPrice->$3,809.89 GetPriceType->1
Clarke, EX40 18LX Self Contained Carpet Extractor, 18 inch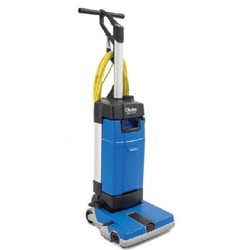 PromptName->Price GetRegularPrice->$1,611.09 GetFinalPrice->$1,611.09 GetPriceType->1
Clarke, MA10 12E Complete Auto Scrubber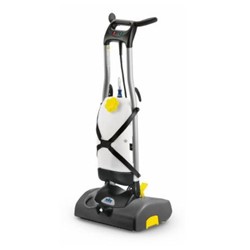 PromptName->Price GetRegularPrice->$2,867.99 GetFinalPrice->$2,867.99 GetPriceType->1
Windsor - Karcher, iCapsol Mini Delux, Carpet Cleaner, Dry System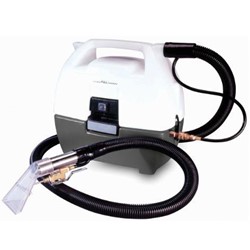 PromptName->Price GetRegularPrice->$948.99 GetFinalPrice->$948.99 GetPriceType->1
Windsor - Karcher, Presto, 2 gallon Compact Carpet Extractor and Spotter with Hand Tool, 98400680, sold as each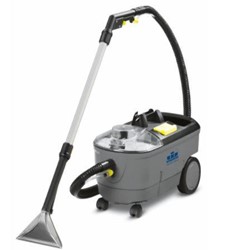 PromptName->Price GetRegularPrice->$1,332.99 GetFinalPrice->$1,332.99 GetPriceType->1
Windsor-Karcher, Priza, 2.6 gallon Compact Spray Extractor with Upright Spray Wand and Hand Tool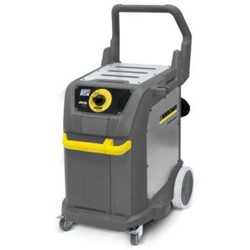 PromptName->Price GetRegularPrice->$5,009.99 GetFinalPrice->$5,009.99 GetPriceType->1
Windsor-Karcher, SGV 6/5, Commercial Steam Cleaner and Wet Vacuum