Home
→
Cleaning Supplies → Hillyard, Pine O Cide II Disinfectant, concentrated gallon, HIL0018506, 4 gallons per case, sold as 1 gallon
Hillyard, Pine O Cide II Disinfectant, concentrated gallon, HIL0018506, 4 gallons per case, sold as 1 gallon
Hillyard Pine O Cide II is a proven disinfectant- detergent that cleans, disinfects, and deodorizes hard surfaces in schools, hospitals, extended care facilities, public buildings, industrial plants, and a multitude of other facilities. Effective against a broad spectrum of both gram positive and gram negative bacteria. As it cleans, it freshens the air by killing odor causing bacteria. Its aromatic pine fragrance leaves your rooms smelling pleasant and clean. Pine-0-Cide II can be used to disinfect and clean a variety of surfaces including walls, floors, tables, counters, glass, metal, plastic, tile, porcelain, lavatories, stools, and urinals. Pine-0-Cide II is EPA registered. Dilution rate 3 oz per gallon.
Features & Benefits:
Proven effective against a broad spectrum of bacteria.
Pleasant pine fragrance.
EPA registered disinfectant.
Product Name: Pine O Cide II
Product code: HIL0018506
Brand: Hillyard
Scent: Pine
Size: One Gallon
Color: Clear
Style: Concentrate 1:20
Case Specs: Four one gallon bottles per case, sold as one gallon bottle.
Dispenser: N/A
Customer Reviews





(0.00)

stars out of 5
(Only registered customers can rate)
Related Products
1 Total Related Products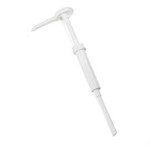 PromptName->Price GetRegularPrice->$4.48 GetFinalPrice->$4.48 GetPriceType->1
Hillyard, Plastic Hand Pump for gallon liquid containers, dispenses .5 oz per pump, HIL22055, sold each